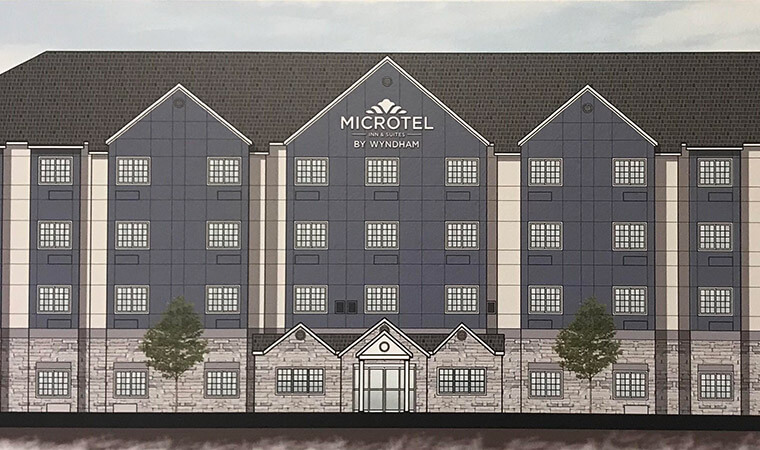 In 2017, after being approached by the owner of a key parcel of land in South Hill, VA on an off-market opportunity, the Principals of Dominion Hospitality Group entered into a Joint Venture agreement to build a hotel under the venture now known as DHG-Newmark South Hill, LLC.
We knew there was interest from both Hilton and Wyndham in putting a hotel at this location. We conducted our own market study outlined below and, based on our findings, elected to go with the Wyndham Flag.
Our initial market study determined that the only recent new hotel in the market was a 72-room Holiday Inn Express, opened in 2017. This existing property was one interchange north of our 88-room Microtel location, and was built with the intention to capture business from the new $80,000,000 VCU Health Systems Hospital that opened in the same year. That particular interchange also offers very few amenities outside of the hotel that would attract the business and leisure traveler—things such as sit down or fast food restaurants, convenience stores, and gas stations.
The Microtel interchange, on the other hand, is located on US Route 58, a major East-West Highway, and offers over 22 amenities ranging from a Cracker Barrel to a Bojangles (report attached), along with a super Walmart. It is unquestionably the dominant interchange for South Hill.
Below is a list of our competitors and key market indicators for 2017*:
Fairfield Inn: Revenue $2,199,309 up 3%YTD, 68 Rooms, ADR $88.61
Hampton Inn: Revenue $1,721,606 up 11% YTD, 54 Rooms, ADR $87.35
Holiday Inn Express: Full calendar year revenues not reported
Best Western Plus: Revenue $1.040, 228 down 11%, 57 Rooms, ADR $49.99
*The above revenues stated were provided from the city of South Hill.
A March 2018 STR report indicated an ADR of $83, but this average was skewed downward by those of the nearby Days Inn (ADR $38.74) and Quality Inn (ADR $47.22) included in the comparative set.
On September 20, 2018, the following rates were quoted on their respective web pages:
Comfort Inn Suites, rate $125
Best Western Plus, rate $115
Fairfield Inn, rate $143
Holiday Inn Express, rate range $108-117
For the Microtel, we have projected an ADR of $92.86 at an occupancy level of 67%, with a stabilized annual revenue of $1,996,000.
The same March STR report showed the competitive set with an average annual occupancy of approximately 75%. The major demand generators are business and leisure travel along I-85 and US Route 58, Fort Lee, VCU Health Systems, and recreational users of both Lake Gaston & Kerr Lake just South West of South Hill.
We believe that a healthy local hotel market along with both our superior location directly in front of the Fairfield Inn and a brand new state-of-the-art lodging experience will allow us to achieve our projected occupancy, ADR, and annual revenue, and to operate profitably.
In the first quarter of 2019 our team—consisting of the lender, Essex Bank, the contractor Capstone Contracting, NBJ Architects, B&B Consulting Engineers, and Dominion Hospitality Group, General Partner—broke ground on this $9,600,000 project, with a 52-week delivery schedule.